2018 Chevrolet Trax Driving Impressions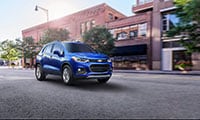 Like other attributes of the Trax, ride comfort and handling qualities score average for the Trax's category. No hint of sporty behavior will be observed, but the ride is comfortable and roadholding ranks as controlled. Electric power steering is admirably responsive, yielding good maneuverability.
Acceleration can only be called slow, even when compared to other vehicles in its class, which is hardly renowned for speed or sportiness. Chevrolet's little turbo four simply lacks sufficient vigor to propel the Trax to highway speeds with any degree of haste. Passing on the highway thus requires some pre-planning.
Transmission gears are widely spaced, with a high-ratio sixth gear. That translates to relaxed, fuel-efficient highway cruising. A Trax rides quietly overall, but the engine can sound harsh when pushed.
Fuel economy is satisfactory, but some small-crossover competitors do better. With front-wheel drive, the Trax is EPA-rated at 25/33 mpg City/Highway, or 28 mpg Combined. Optional all-wheel drive drops the estimate to 24/30 mpg City/Highway, or 27 mpg Combined.
1Dealer Discount applied to everyone.