2018 Chevrolet Traverse Driving Impressions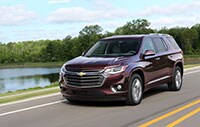 The new 3.6-liter V6 is much more pleasant than the old 3.6-liter V6. It makes 266 pound-feet of torque to go with its 310 horsepower, and it comes on low for a non-turbo engine, at just 2800 rpm. It's very lively from a standing start, with an aggressive throttle response, and it's smooth and linear up into high rpm. It has a new sound, too, deep and resonant under hard acceleration. The powerband is perfect for passing, whether at 45 mph on a two-lane or 65 mph on a freeway.
The 9-speed automatic transmission is also a big improvement. It's slick and barely noticeable under gentle throttle, then quick-shifting under hard acceleration. Importantly, it's consistent and the shifts come at predictable times.
If only the steering were as good as the powertrain. It's heavy, numb on center, and offers little feedback. But something makes the Traverse feel lighter in the corners, so it's easier to make the corrections demanded by the lifeless steering. That something might be the independent suspension with MacPherson struts in front and five links in rear, trying to make the handling more nimble and predictable.
Still, it handles better than the last Traverse. Nothing like a Mazda CX-9, but it won't trip over itself in the twisties. The brakes are stouter in 2018, as well.
1Dealer Discount applied to everyone.