2018 Chevrolet Colorado Driving Impressions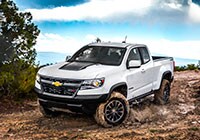 For a pickup truck, the Colorado offers a smooth ride that handles bumps well, making it a compelling alternative to a car. Some motions make it into the cabin, but wide sidewalls on the tires absorb a lot. We would be fine with a commute over rough roads in a Colorado, which we can't say about the Tacoma or Frontier.
The Honda Ridgeline is also a rival, but it's different. The Ridgeline has unitbody construction (like a car or a crossover), while the Colorado is body-on-frame, better for trucks because that design is superior for towing, hauling and durability.
The 3.6-liter V6 makes 308 horsepower and 275 pound-feet of torque, mated to an 8-speed automatic transmission.
The 2.8-liter turbodiesel was new for 2016. It makes 181 horsepower and 369 pound-feet of torque at just 2000 rpm, so it pulls like a V8 across the rev range, even at high elevations and up steep grades, with few downshifts. The optional exhaust brake helps control downhill speeds with a full load. We find it smooth, solid and confident, a delightful diesel.
If you don't carry or tow big loads, the base 2.5-liter engine, with its 200 horsepower and 191 pound-feet of torque, will probably work for you. It's acceptable for medium-speed urban duty. You can get it with a manual transmission, however the 6-speed automatic works well with the four-cylinder engine. Now you have a car that can haul stuff.
The Toyota and Nissan four-cylinder trucks get better fuel mileage and Tacoma dominates in durability and rugged-terrain capability, but the Colorado is a far better choice for the kind of driving and infrequent hauling that a lot of truck buyers do. The Colorado is a much more comfortable truck and it's nicer to drive than the Tacoma or Frontier.
The new ZR2 uses active dampers, developed with the experience from decades of offroad endurance racing, and even Formula 1. They are named Dynamic Suspensions Spool Valve dampers supplied by Mulitmatic. The technology is also used on the Chevy Camaro ZL1. The reaction time of these dampers to deal with wheel movement is astonishingly quick.
We found the ZR2 drives very nicely around town, ours equipped with the diesel. We haven't driven one off pavement yet, but the suspension feels extremely capable and we have no doubt it will deliver. The Goodyears have aggressive tread on the edges of the sidewalls for traction in muddy ruts.
1Dealer Discount applied to everyone.